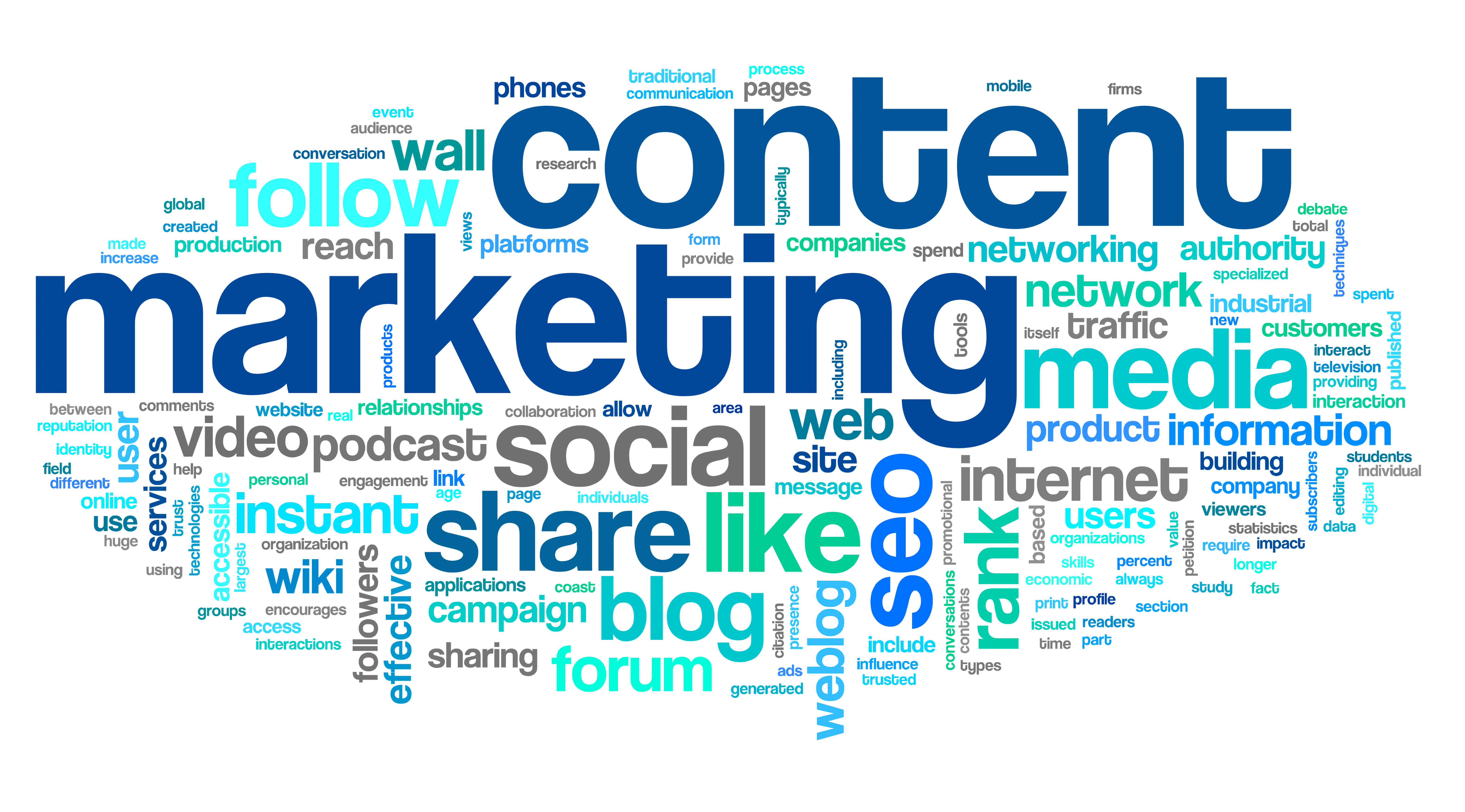 08 Feb

Is your content marketing too 'retail'?

Is your content marketing 'too retail'?

What are you trying to achieve with your content marketing and social media? What is your strategy?

Are you targeting end consumers and trying to raise awareness of yourself, your practice, or of issues in the hope of generating immediate enquiries?

Or are you targeting potential referrers and more sophisticated prospects and hoping to more clearly differentiate yourself, nurture long-term relationships with a community of influencers or prospects in the hope that they might select you over your competition, when they get to that stage.

Is it all about SEO? Or is it about converting website visitors? Or something else? Or all of the above?

Just about all strategies and tactics can be effective if followed in a disciplined and consistent manner, but I see many law practices seemingly following a confused strategy – not sure of their audience, their strategy, their message or their primary media. Maybe you recognise that you need to be 'on' social media, but then struggle to make it work for you.

So, are you clear on your strategy?

Retail and professional content strategies
Two of the alternative strategies that can be seen in the legal profession are what I call 'professional' and 'retail' content marketing strategies
The comparison below is a bit simplistic and generalising, but I hope it gets the idea across: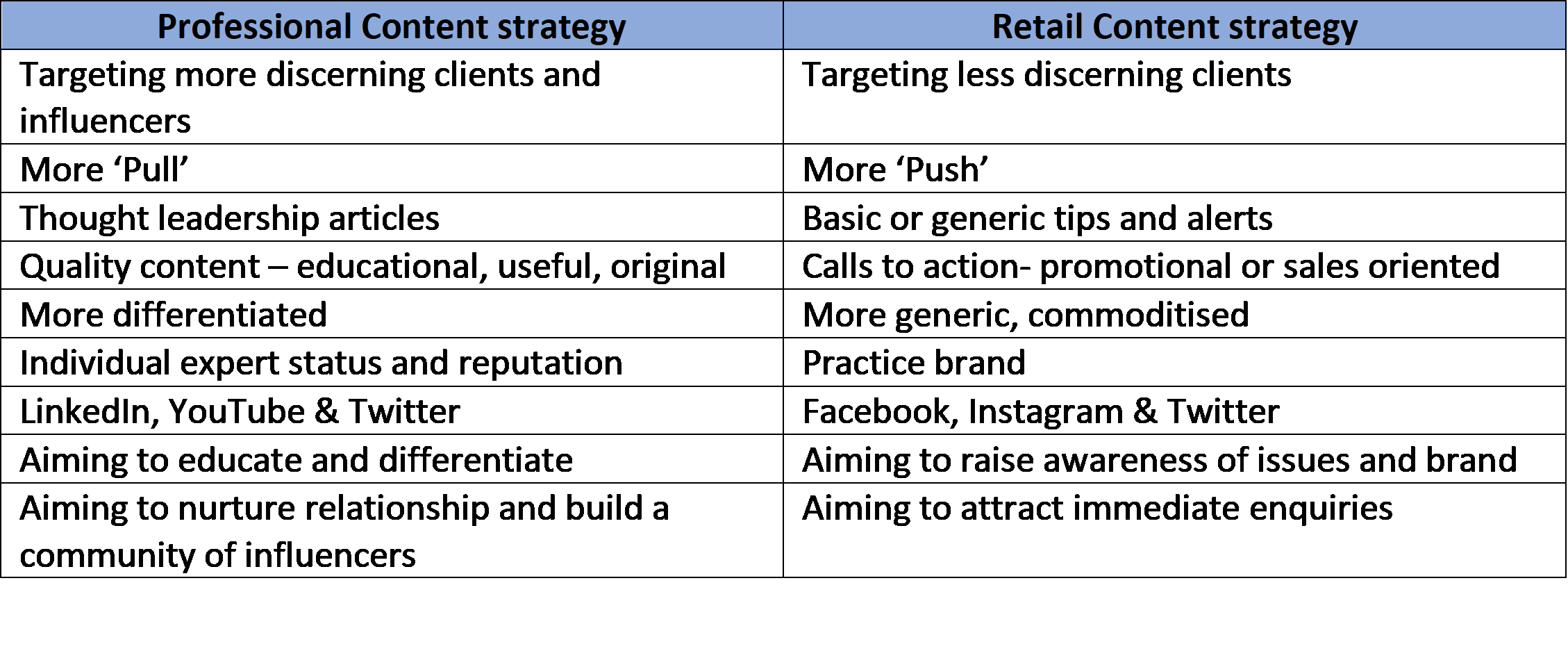 Both strategies can work, but are you using the right one? Recently, I have seen a number of legal practices following a 'retail' content marketing strategy when this doesn't fit with the rest of their positioning, marketing and business development activity.
Consider the following:
The vast majority of prospective clients prefer to choose their legal advisors on the basis of a referral
80.8% of referrals check out your website (Hinge Marketing, 2017). Many also check out social media
23.5% ruled out a firm because of poor quality content (Hinge Marketing, 2017)
The fact is that the buyers of legal services are increasingly sophisticated and self-directed. They prefer to find, compare, select and buy rather than being sold to. Too much push can be a turn-off.
Increasingly, they are unlikely to respond to simple awareness-based marketing because they know that not all lawyers are the same, and they want to choose the best for them. They are going to check you out – and one of the few things they can check is your content. Does this build trust, engage and differentiate you enough to get prospects to actually pick up the phone?
In the mature legal services market where lawyers, even specialist lawyers, are not difficult to find, prospective clients increasingly look for reasons to choose one lawyer over another. The challenge is not only to raise awareness, but to differentiate and build trust.
Does your content marketing do this?
Those clients that contact you because of retail-based content marketing (simplistic, promotional, awareness-based, or 'push' posts) are likely to be less sophisticated, more difficult to convert and more price sensitive. Are these the type of clients you want?
For me, most legal practices (there are exceptions) should be looking for their content marketing to:
• educate and engage
• be useful and interesting enough to share
• demonstrate expertise
• let potential clients sample their thinking and approach
• nurture leads
• differentiate you from rival solicitors or practices
• build your brand – either personal or practice
• build a community of influencers
• build trust
This means that it should mostly avoid sales language, generic alerts and promotions. You should be generous rather than stingy with relevant practical guidance. You should target your ideal clients not the less sophisticated masses. Poor quality content and the wrong strategy might actually be harming your practice.
High quality content become even more important if SEO (search engine optimisation) is an important part of your marketing strategy.
Many types of content and content marketing can boost your ranking and help attract visitors to your site. But what happens then? These prospects will be 'low trust' and harder to convert than referred visitors and your website will have to work so much harder to convert them.
Does the content on your website and on your social media platforms differentiate, build trust and persuade?