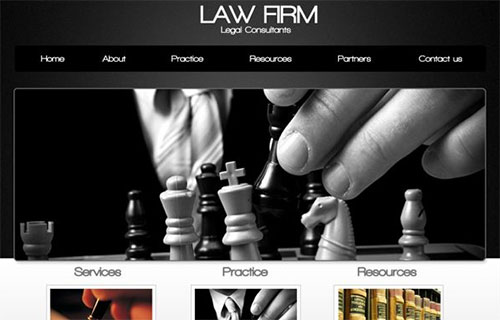 17 Oct

Law practice websites: does yours pass the 5 second test? what about the 30 second test?

I regularly meet solicitors who have just launched new law practice websites and ask me to have a look.

Normally, it passes the 'one second test' in that it 'looks' good. By this I mean that at first very swift glance, the designers have done a good job and it looks fresh, sharp, modern, reassuringly competent – hinting towards progressive or corporate rather than stuffy old professional.

But then I take a few more seconds and the disappointment kicks in. Yes, it looks good, but it also looks and sounds like so many other law practice websites. It reads like it was developed by a committee (it probably was), and it is thorough and comprehensive. I smile and respectfully ask them what they were hoping to achieve with the website. Usually this leads to an offended puzzled look. Very rarely do I get a clear, confident, strategic answer.

And law practice websites should be strategic. They should be aiming to achieve something – positioning, conversion, education and more. All too often, they read like a comprehensive yet unimaginative capability statement – which reads like every other law practice capability statement.

15 years ago, this approached worked quite well. The aim was to cover all the bases – to reassure potential clients that you could help them with just about any potential legal challenge they might have. In those less competitive times, reassurance was the aim.

Now, the game has changed. Reassurance isn't enough. Increasingly sophisticated clients know that a number of law practices are broadly capable of helping them and they are looking for clear reasons to choose one over another. You have about 5 seconds to meet the challenge.

It's particularly disappointing to see high quality design work wasted on weak positioning, messaging and copy. Before engaging a website designer, law practices should invest some time and if necessary money on refining their positioning messages and value propositions, testing them if possible and only going to the design stage when they have something interesting to say that differentiates and gives clients a reason to care.

The sea of sameness and the 5 second test

Be honest, does your website look and sound different from your closest competitors?

In the first 5 seconds, potential customers would typically look for a number of things from a website:
a fresh modern design
a clear statement on what services are provided, and/or who these services are provided for (some positioning messages)
a reason to care ( a practice value proposition), and/or
a reason to stay on the website a bit longer and maybe look at other pages (a promise of value to be found elsewhere on the website, probably in recent relevant blogs or other content)
.
A good value proposition needs to:
be prominent and visible on the website
genuinely differentiate you
be relevant to your clients needs
answer the 'so what' question (So what if you are experienced? What's in it for them?)
exceed their basic expectations (You will keep them informed of costs! – I should bloody well hope so, that's a legal requirement!)
avoid or break through cynicism (if you talk about superior client service, you need to be able to justify the claim)
.
OK, so its not easy, but too may law practice websites make it look like the practice hasn't even tried.
.
What about the 30 second test?
OK, lets say that you've met the 5 second test and that the potential client has stayed on your website just a little bit longer. What might they find in the next 30 seconds? They are likely to be looking for at least some of the following:
Recent, relevant content

– do you have at least 3 blogs in the last 3 months which are interesting, accessible and which reinforce your positioning messages?
Value proposition supporting information

– OK, they are interested in your claim to be 'the most strategic IP lawyers for the chemicals industry' and are looking for proof and justifications. Do you meet the test?
A reason to choose you as people

– do you have bios for all fee-earners that give people a reason to think "Yes – that's the type of lawyer I need. I'm going to give them a call right now". Qualifications, experience and expertise are great, but this stuff only reassures, it doesn't inspire and increasingly fails to differentiate.
Give potential clients a reason to both relate to you as a human being beyond the generic sport, travel and family (something quirky?), and also say what makes you a good lawyer in terms of your style, behaviour and motivation. Most lawyer bios are depressingly generic in terms of qualifications, when they graduated from QUT, when they . . . . . . . (oh sorry, I've fallen asleep). Put something personal into your personal brand!
To really be effective, your website has to pass both the 5 second and the 30 second tests.
Before you spend $50-$10k on a new website design, make sure you know what you want to say and how to say it.
Happy lawyering!
Customer experience marketing & cynicism