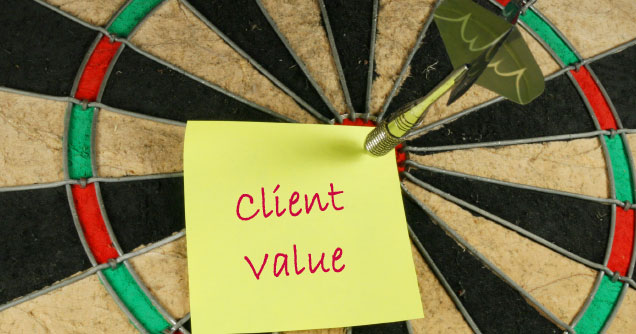 03 Sep

Client value update (TERMS)

Delivering superior client service requires both understanding what clients really value – and then providing it. I like to use the 'TERMS' model to help identify these sources of value:
Time – can you save clients time in the way your deliver your services?
Emotion – can you reduce stress or anxiety for the client? can you deliver a 'feel-good' factor?
Risk – can you manage, limit or eliminate both legal and other risk for the client?
Money – can you make or save the client money?
Situation – can you increase convenience for the client?
I've promoted this model before, but as client preferences evolve, law practices are changing the way they offer their services to maximise value in all these areas. Below I highlight some of the changing dynamics, and how law practices can adapt to offer even more value.
Time
Law practices rightly focus on the importance of the client relationship and on truly getting to understand their client's business/personal needs and preferences. By doing this, they can then demonstrate 'trusted advisor' behaviours and offer superior service. Sounds good, yes? and indeed this is still the dominant service model, or at least the aspiration, for most law practices.
The problem is that clients are increasingly reluctant to invest their time in helping you get to understand them better (or demonstrate how well you understand them). Outrageously, they have more important things to do! Instead, what clients increasingly value is the law practice that can give them everything they need (including commercial insights and added value) but for minimal time costs.
Lawyers therefore need to find new ways of understanding client needs and industry dynamics, and of sharing client info between individuals – so they can deliver added value without needing significant client time. They need to streamline client and matter engagement processes (including online info gathering), develop effective (client) knowledge management systems and streamline any internal systems that waste client time or detract from client value.
Emotion
Removing client anxieties not only adds value, it also makes the lawyer's job easier. Too many lawyers rely on making claims that they will 'take care of everything' which increasingly sceptical clients don't accept. To gain trust and be genuinely reassuring, you need to demonstrate competence, rather than merely making claims – and this isn't always possible when clients give you little of their time.
A better approach is to give clients both control and evidence. Giving clients genuine control in the form of both information and choices – re scope, costs, likely and everything else – can (if not overdone) reduce anxiety quickly. Successful law practices increasingly look to work with clients rather than merely for them, collaborating on scope and costs, and being proactive in providing information. Technology such as secure client extranets that give clients real-time updates and control take it a step further, and this is the sort of control and reassuring evidence that clients increasingly demand.
Risk
In seeking to differentiate themselves and offer a superior product and service, lawyers have become effective at identifying new legal and non-legal client risks, and then developing new offerings to address these risks. Identifying new problems (risks) and then creating products to solve them is one of the key creative challenges for law practices.
The problem with risk is that lawyers can over-do it. A lawyer's instinctively risk-averse, perfectionist approach will often seek to address every residual risk and rack up the hours in doing so. This approach can lead to possibly the biggest value-killer of them all: OVERSERVICING!
To guard against the risk of real or perceived overservicing, lawyers need to work with their clients to assess both different risks and the value in addressing them. Whilst lawyers can educate clients and communicate the value of different activities, the client will often make a different ultimate risk assessment, and needs to be given control – both information and choices – to ensure they receive and perceive maximum value.
Money
Yes, money is tight, but the more value the client perceives, the better placed the law practice is to resist downward pressure on fees. Step one is therefore to make the client realise how much money your core legal services might ultimately save them. 'Build the pain' by asking questions about the potential (financial) cost of failing to address their concerns or of a unsuccessful outcome. If you can, put a financial figure on this and get the client to focus on the financial value of the result – or cost of failure – rather than your fees.
Beyond this, always be on the lookout for additional ways to help clients save or make money: provide commercial or financial suggestions, send referrals, introduce them to other people who can help.
Situation
As with time above, lawyers are increasingly recognising the value of making the delivery of legal services as convenient as possible for clients. I have seen a rise therefore in the number of lawyers offering mobile services, out-of-hours services, establishing offices in shopping centres, or otherwise arranging client interviews at the client's address or through Skype.
Clients both value and appreciate this approach. Unfortunately, I see too many lawyers failing to convert this value into higher fees. Too often, such mobile, out-of-hours lawyers charge rates below the typical market rate for office-based lawyers. This is the wrong way round: if client value is increased by the lawyer travelling rather than the client, then fees should be higher to recognise this.
This is why I'm willing to pay a bit more for my beer at BWS rather than Dan Murphys (owned by the same retail group). BWS is closer, and I'm willing to pay a bit more for not having the hassle of driving another ten minutes down the road to Dan Murphys. If mobile lawyers provide more value but are cheaper, this can raise questions in clients minds as to quality. "Why are they so cheap?" "Is this the only way they can get clients?"
Delivering extra value through out-of-hours mobile visits is great, but don't risk your credibility by failing to charge appropriately!