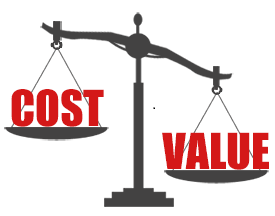 20 Oct

Costs agreement – or reluctant acceptance?

Do you really get agreement from your clients re costs – or just a resigned, reluctant acceptance?

The problem with costs agreements is that too often, there is very little real agreement about costs because the client doesn't understand what you will do for them and how this represents good value – it is simply another poorly understood 'take it or leave it' offer. While clients might reluctantly agree to pay the figure mentioned in the costs agreement, they are rarely agreeing – at that point – that this represents good value.

Savvy solicitors who truly care about client relationships recognise that such nominal costs agreements are inadequate – true agreement requires a recognition of good value and a much fuller understanding and acceptance of the related costs and benefits.

Objectives, value and the power of the conceptual agreement

So, how can solicitors get 'true agreement' in relation to costs?

Mistake one is to try and avoid any real discussion of costs and value altogether – often out of embarrassment, discomfort or insecurities – and just leave any mention of fees to the paperwork.

Mistake two is to think that the client will recognise the value when they read your documented costs agreement. Assuming they read it (?), value is rarely communicated well on paper. Best to discuss and engage face-to-face.

Mistake three is to focus any discussions solely on time, legal product and fees. Believe it or not, this approach often fails to capture the hearts and minds of clients. (That's because there's nothing in it for the client.)

To raise clients recognition of the value of your work, you first have to identify and discuss their business or personal objectives. This will often involve taking the discuss back a stage from the potential legal solution they or you think they need. Why do they want [insert legal solution here]? What will that give them? What are their (business/personal/career? hopes and fears? What's the bigger picture?

Only when you understand the bigger picture can you then start explaining the value of your work to the client.
You can ask insightful questions to 'build the pain' of their current situation, or of an unsuccessful resolution
You can explain how your work can save them time, money and stress, reduce risk and make them look good in their organisation
You can explain how you are better positioned to support them in their aims than your competition.
Once you have agreed objectives, raised the client's recognition of the value of your work, established your credentials as a solution provider, and they are still talking to you, you have achieved a 'conceptual agreement' and can start talking about fees.
Collaboration, partnering and control
True agreement – in relation to costs or anything else – requires some discussion and back-and-forth in order to confirm consensus.
Achieving true costs agreement therefore requires the solicitor to collaborate with the client on scoping the work. The aim here would be to only do work that the client values – which requires educating the client about the value of the different tasks or activities that they don't initially understand or appreciate.
This collaboration can occur through face-to-face discussion or the offering of simple scoping and value choices, but too often solicitors fail to fully to collaborate, with the result that either:
unnecessary work is undertaken – leading to poor value recognition and costs resentment
all work undertaken is necessary, but the client doesn't recognise or understand this – leading to similar costs resentment
the solicitor fails to identify other work which is either necessary (negligence risk) or that would have been valuable to the client.
Collaboration on both costs and scoping of work builds value recognition and increases the chances of true agreement. Without this value recognition, clients may only reluctantly accept your fees as a 'grudge purchase', leading to potential client dissatisfaction or costs disputes if the value subsequently fails to emerge.
Can you afford a grudge purchase?