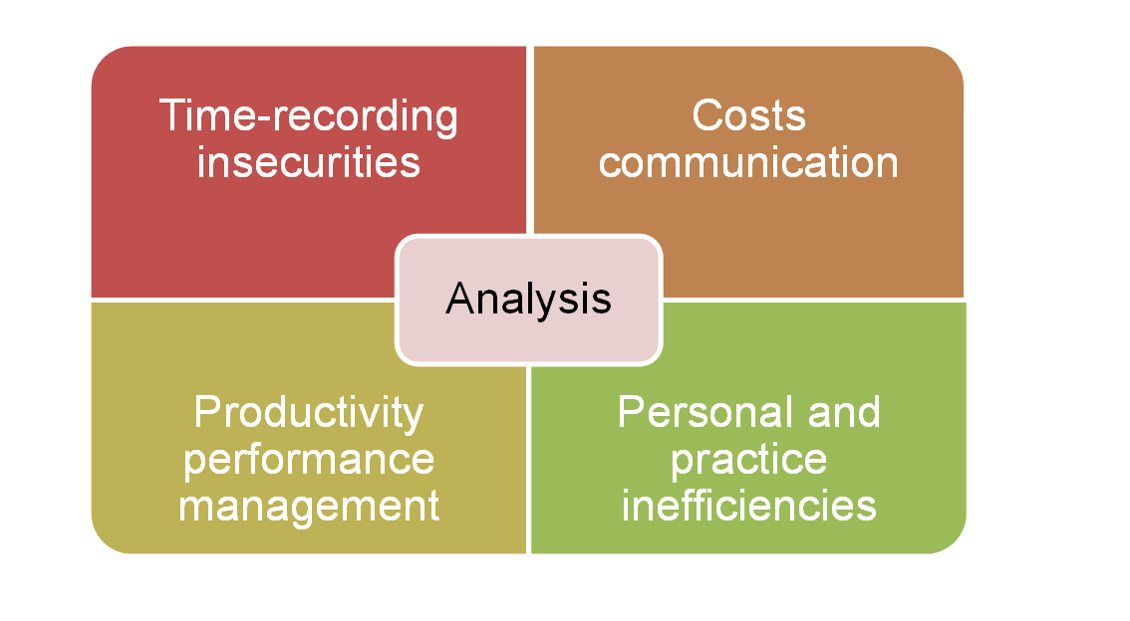 20 Feb

The challenge of law practice productivity

Do you or any of your team work hard, and seem efficient – but still struggle to meet billable hour targets? Law practice productivity should be easy: you do the work, you record the time you took you, you bill the time. Easy

Unfortunately, it's not that easy – a number of practice and individual issues get in the way. Part of the productivity challenge is to work out why your productivity is below where it might be – and then how to address this.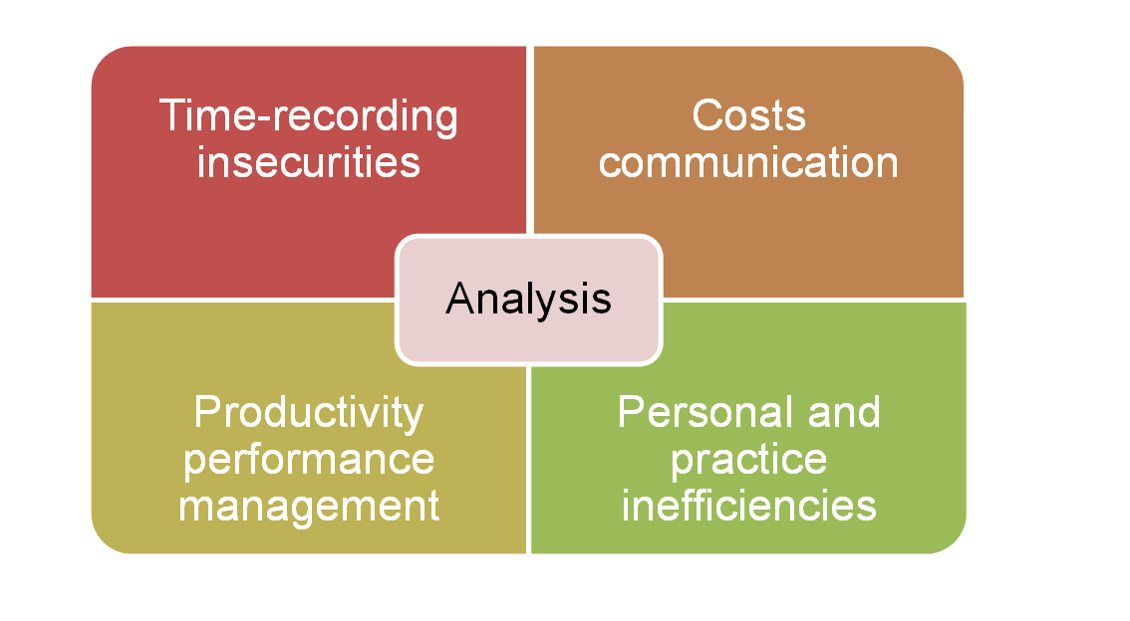 When I first ask principals about law practice productivity, the majority instinctively think of either:
the personal time management and matter management skills of individuals, or
practice efficiencies: IT, admin support, workflow and processes
In my experience, however, the majority of productivity challenges are caused by mindset challenges in relation to confidently estimating, recording and billing all the professional time you spend on the matter.
It starts with estimating. Many solicitors lack the confidence or ability to sell the full value of their work so they instinctively low-ball or under-estimate the time and money it takes to do a decent job on any given matter. This results in people either not recording time (because it would bust the estimate) or time being written off. This behaviour is consistent across all sizes of practice but the answer is simple – sales and pricing skills training.
Alternatively, the answer might lie in 'productivity insecurities' – which is a big problem for not only junior solicitors but also practice principals.
In practices that time record, the specific challenge of law practice productivity is not just to get things done, but to record and justify this time to the client. It is these doubts about whether time can be justified that cause time capture failures. Although the media highlight instances of where individual solicitors might have been found to 'pad' timesheets or bills, in my experience most solicitors err on the other side and actually fail to capture and bill justifiable time more often than not.
Law practice productivity insecurities come in 3 overlapping forms: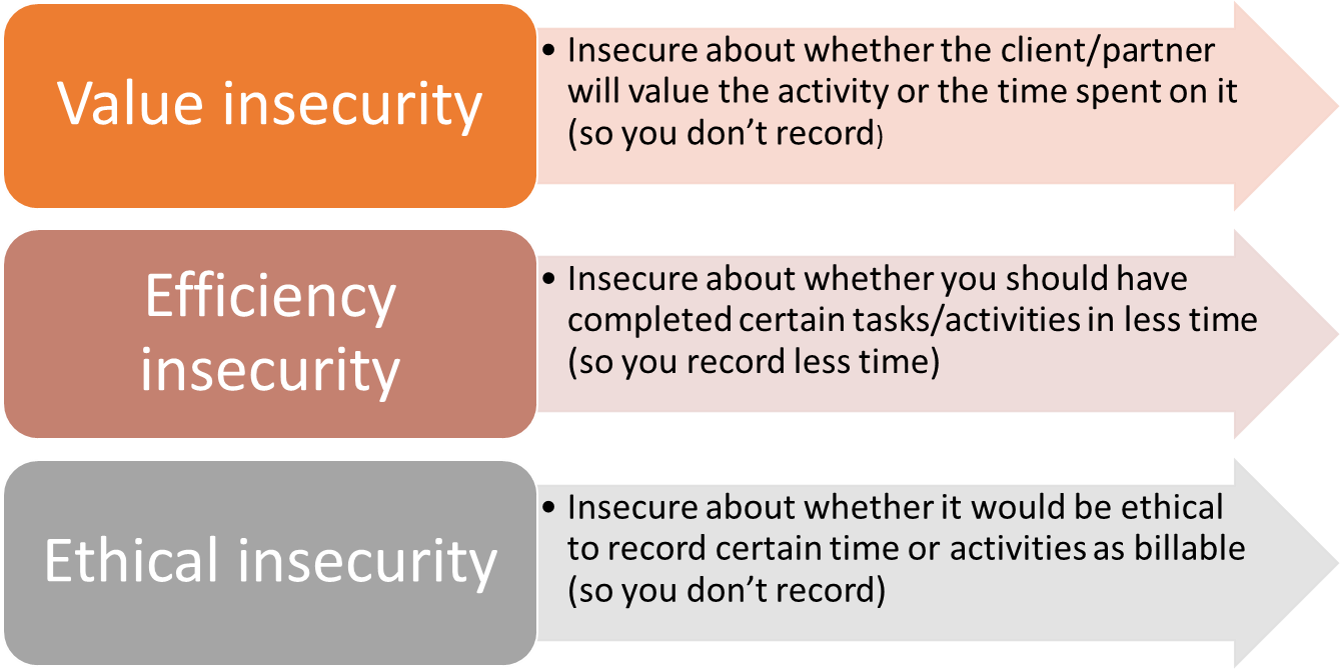 These insecurities can often be uncovered through analysis of timesheets and supervisor discussions – especially if a practice habitually records all time (not just that which a fee-earner initially thinks is chargeable).
To address or overcome these insecurities, practices or supervising partners should consider providing training and guidance:
on ethical time recording, so all solicitors can record time ethically but confidently
on effective costs communication, so all solicitors can more effectively justify the value of their time both internally and to clients.
Beyond that, practices should also require all solicitors to observe some best practice behaviours in relation to time recording that should help to combat some of these insecurities:
record all-time, billable and non-billable
record all the time it took you to complete a task
record time in real time (not at the end of the day/week)
never write off time – capture the time first, then discuss with a partner if you have concerns about billing this time to a client.
To learn more about law practice productivity, communicating value and personal effectiveness, I am running a series of 'March Masterclasses'. Register now or call me for more details:
Pricing – command the fees you deserve, March 21, Brisbane, 7.30am-11.00am
Pricing – command the fees you deserve, March 7, Townsville, 1-4.30pm
Make customer experience your competitive advantage, March 14, Brisbane, 7.30am-11.00am
7 habits of highly effective solicitors, March 16, Brisbane, 9.00am-4.30pm
Time management and productivity for early career lawyers, March 7, Townsville, 8.30-12.00
Time management and productivity for early career lawyers, March 23, Brisbane, 7.30am-11.00am
Giles Watson